Hotel Musashitei is an accommodation known for its outstanding food since it originated from a ryotei (traditional Japanese restaurant).
We are highly praised for our discerning seafood dishes by repeat guests not only from Hokkaido but all over Japan.
We warmly welcome our guests using seasonal ingredients.
We use Ohtaka Kohso for our dishes.
Ohtaka Kohso is a fermented food of plant extract made by fermenting vegetables, fruits, mushrooms etc. and it is very good for your intestine.
It is made by fermenting naturally/ageing 50 varieties of raw plant ingredients for over 180 days.
Ohtaka Kohso Co., Ltd HP → https://www.ohtakakohso.co.jp/
Please enjoy our dishes which our head chef is very proud of.
Dinner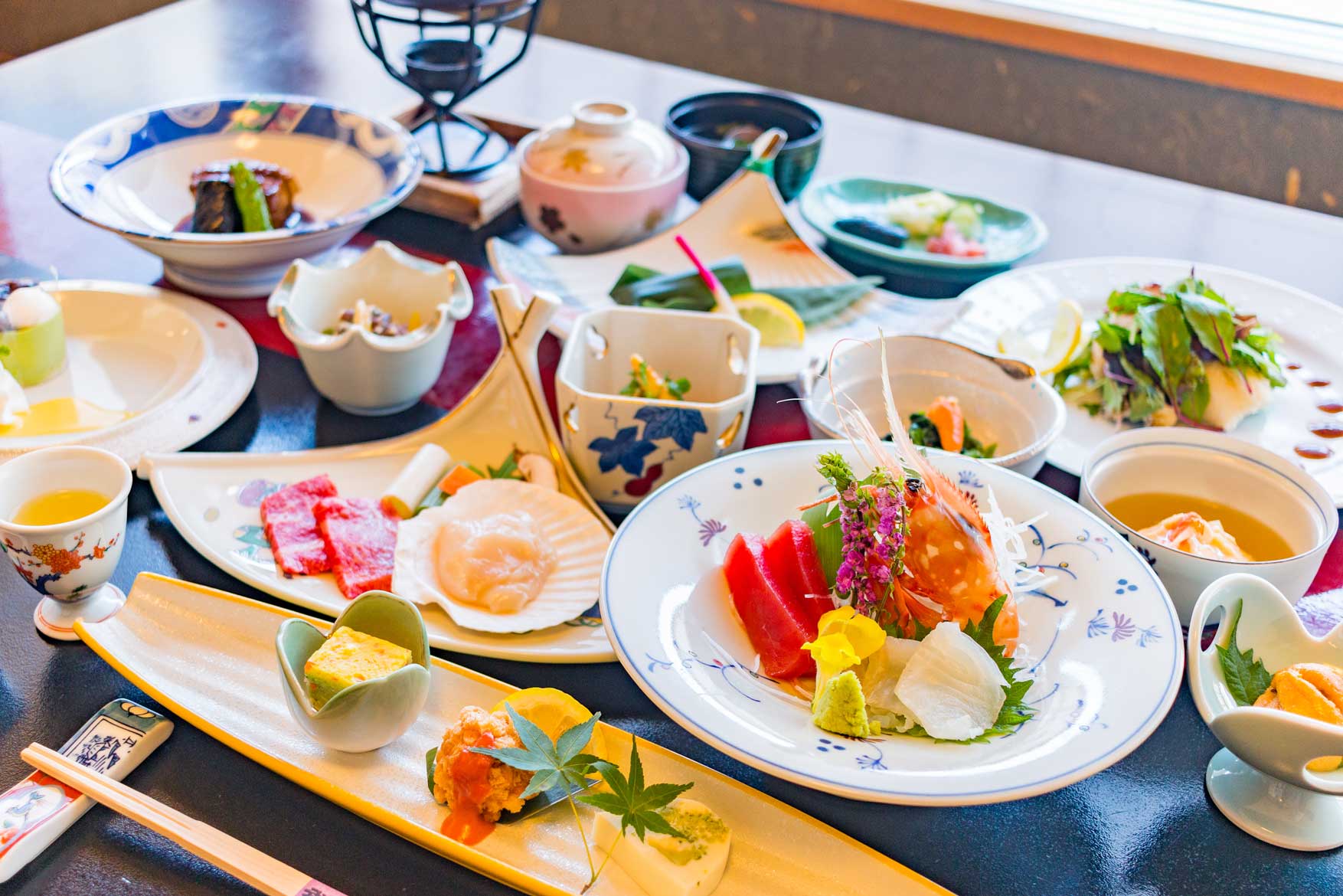 Menu
Pre-dinner drink
Ume Wine with Ohtaka Kohso extract
Starter
Crab and Small Scallops mixed with Japanese Persimmon
Appetizer
Fried Sea Urchin and Squid
Crouton Fried Shrimp
Potato Vichyssoise Terrine
Side dish
Slightly salted Okura with Konbu
Sashimi
Sliced Tuna Thinly sliced Otaru Flounder
Botan Shrimp Raw Fish Slice Plate Wasabi
Steamed Dish
Steamed Pumpkin Gingko Nut
Grilled Dish
Tokachi Beef Grilled on Stone Shaped Earthenware
Okhotsk Scallop Vegetable Plate Andean Rock Salt Ponzu
Palate Cleanser
Tomato with Jelly with Ohtaka Kohso extract Tomato Sauce on top Basil
Hand Rolled Sushi
Bream Sushi wrapped in Bamboo Leaf
Different Dish
Fried Golden Righteye Flounder Japanese Style Balsamic Sauce with Pot Herb
Bowl Dish
Pork Tenderly Stewed
Eggplant Green Pepper
Meal
Uryu Organic Agrichemical Reduced Rice cooked with Ohtaka Kohso Fugen
Green Chili Miso
Last Soup
Akkeshi Clam in Clear Soup
Yuzu Japanese Parsley
Pickles
3 varieties
Dessert
Dainagon Chocolate Tart Moussed Cheese with Berries
Raspberry with Kohso and Sauce

※Please understand that the dishes and its contents may change depending on the season and whether the ingredients can be sourced or not.
※If you are allergic to any food, please let us know.
※In the raw ingredients of Ohtaka Kohso extract, vegetables, fruits and mushrooms are included and in the raw ingredients of Ohtaka Kohso Fugen, wheat is included.
Breakfast
A balanced meal including fruits of the sea and fruits of the mountain.